Aus dem November 2007 stammen die aktuellen Ergebnisse der comScore Widget Metrix, die die Verbreitung von Widgets misst. Zu den untersuchten Objekten gehören "independent objects that can be embedded or downloaded onto another site and can be used as a tool, have automatic content updates, or are interactive." Es wurden also nicht nur "herkömmliche" Widgets, sondern auch Facebook-Applikationen und Google-Gadgets in die Untersuchung mit einbezogen.
Im November wurde demnach insgesamt 148 Millionen US-Internet Usern ein Widget angezeigt, was einer Reichweite von 81 Prozent entspricht. Der größte Anteil der US-User (57 Mio. oder 32 Prozent) hatte Kontakt zu MySpace-Widgets, gefolgt von Slide.com- und Clearspring-Widgets (jeweils 22 Prozent).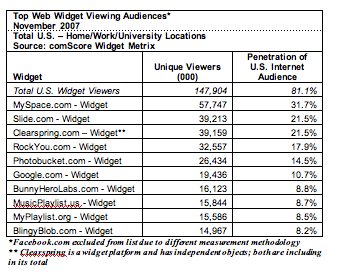 Die Zahlen sind leider nicht vergleichbar mit der letzten Studie aus dem April 2007. Damals wurde die weltweite Nutzung von Widgets untersucht, nun hingegen wurden alleine die US-User unter die Lupe genommen. Von diesen haben im Vergleich zum April 2007 83 Prozent mehr User Kontakt zu Widgets gehabt!
Wie bei fast allen Erhebungen gibt es auch hier bezüglich der Datenerhebung Diskussionsbedarf. WidgetBox hat nach eigenen Angaben 25 Mio. Unique Visitors pro Monat, fehlt aber in dieser Auflistung gänzlich, ebenso Gigya (35 Mio. Unique Visitors) und NewsGator (23 Mio. Unique Visitors).
Via: Techcrunch

Ähnliche Beiträge: