Im Anblick der Wirtschaftskrise und erodierender Einnahmen durch werbefinanzierte Modelle, machen sich nun auch die ersten Widget Companies Gedanken wie sie Geld verdienen können. Welche Möglichkeiten bestehen zeigen Widgetbox und Sprout.
Widgetbox wählt den Weg der Versionierung seiner Produkte, während Sprout sein bisher kostenloses Angebot komplett einstellt.
Widgetbox: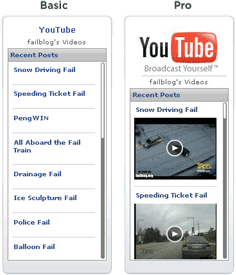 Die User von Blidgets (= Blogs + Widget) können zukünftig zwischen zwei unterschiedlichen Versionen wählen. Der weiterhin kostenlosen "Basic" Variante und der "Pro" Version.
Die Pro Variante bietet erweiterte Designmöglichkeiten, die Integration von Videos und mehreren Tabs – hierfür werden dann $ 3,99 fällig. Eine detaillierte Übersicht zu den Unterschieden gibt es hier.
Sprout Builder:

Sprout eröffnete seinen Usern vor genau zwei Wochen, dass die kostenlose Version des Sprout Builders ab Anfang Februar nicht mehr zugänglich ist:
Like many technology companies, we offered our service for free while we worked on our products, spoke with customers and developed our go-to-market strategy. Now that we have developed a solution worthy of creative professionals at the best agencies in the world, it is time for us to monetize. Starting in early February, we will begin charging for our service. We hope that you have found value from Sprout Builder and will continue to use our services.
Ab Februar betragen die Kosten für Mitglieder der ersten Stunde dann $ 13,95 pro Monat ($ 139,50 pro Jahr), für Neukunden beginnt die niedrigste Preisstufe bei $ 19,95. Das Pricing richtet dabei nach der Anzahl der erstellten Projekte, benötigtem Speicherplatz und Traffic – wie man hier sehen kann.
Zuvor experimentierte Sprout übrigens mit einem kostenpflichtigen Angebot, bei dem gegen Zahlung das Sprout-Logo entfernt wurde.
Welcher Weg verspricht Erfolg? Wahrscheinlich beide – Sprout hat sein Tool so weit entwickelt, dass es sich schon eher an professionelle Anwender und Agenturen richtet. Diese sollten auch bereit sein für den Service zu zahlen (zahlreiche "normale" User allerdings nicht). Das Blidget Pro richtet sich an A-Blogger oder Unternehmen, während "normale" Blogger weiterhin das Basic Blidget nutzen werden.
Zur Diskussion siehe auch Netzwertig.
Ähnliche Beiträge: