Crowdstorm hat schon seit längerem an einer Überarbeitung der Seite gearbeitet – nun wurde die Closed Beta des "neuen" Crowdstorm gelauncht.
Was auf den ersten Blick positiv auffällt, ist das Desgin – es wirkt wesentlich ansprechender und frischer als bei der alten Version. Es gibt neue Funktionen und alte Features wurden besser platziert. So können Produkte jetzt nach verschiedenen Kriterien (in einem ausklappbaren Menü mit Filterfunktionen) sehr leicht selektiert werden.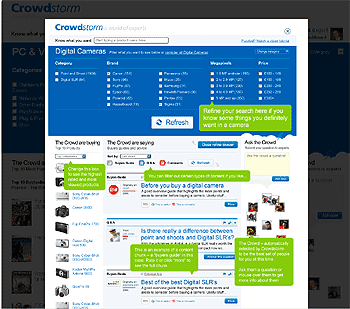 Ein neues Feature innerhalb der Preisvergleichsfunktion ist die Anzeige der Anbieter, bei denen die Crowd bisher gekauft hat. Hierfür hat Philip Wilkinson den Begriff des Social Price Comparison kreiert:
Social Price Comparison is the ability to actually show where other users went to go and buy a product, in effect showing where the crowd went, and in particular, if anyone in your trusted network went to one of the merchants in the list.
Die Idee dahinter: Nicht alle Leute wählen bei einem Preisvergleich das günstigste Produkt, sondern auch Marke und Reputation des Verkäufers spielen bei der Kaufentscheidung eine Rolle. Gehen viele Leute (die ich kenne) zu einem bestimmten Händler und sind zufrieden ist die Wahrscheinlichkeit, dass auch ich zufrieden bin vergleichsweise groß.
Wie teilweise auf dem Screenshot zu sehen, werden Informationen von diversen Webseiten auf Crowdstorm gebündelt, es gibt einen neuen Algorithmus (der die Beziehungen zwischen Usern bewertet) und eine Experten-Crowd kann bei Fragen belästigt um Rat gebeten werden. Die Funktion "add products", die bei einem Technik fokussiertem Portal sowieso wenig sinnvoll ist, scheint weggefallen zu sein.
In der Testphase sind bisher die zwei Kategorien Digitalkameras und Computerspiele integriert und der Fokus scheint auch in Zukunft eher im Bereich Technik zu liegen.

Ähnliche Beiträge: