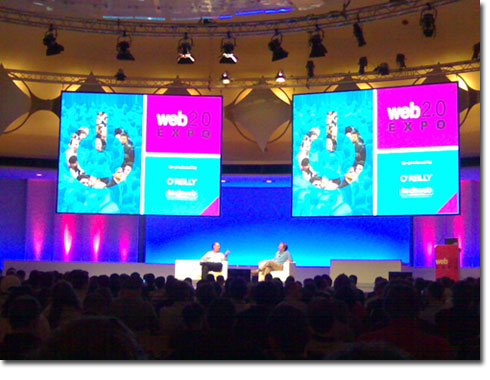 Auch in der Welt des Web2.0 ist die Wirtschaftskrise angekommen. In fast allen Vortägen der Web2.o Expo spielt daher auch die aktuelle Wirtschaftslage eine Rolle. Der Grundtenor – es gibt erstaunliche Parallelen zwischen Bankenkrise und dem Web2.0.
Man könnte es so formulieren: Die "Spielereien", die noch vor 1 bis 2 Jahren finanziert wurden, sind heute nicht mehr finanzierbar. Von der "Spaßveranstaltung" Web2.0 soll es nun also wohin gehen?
Tim O'Reilly fordert in seiner Keynote vom Dienstag: Create something meaningful! Etwas das einen nachhaltigen Wert schafft und sich an den wirklichen Problemen der Menschen orientiert, was von vielen anderen Rednern ebenfalls aufgegriffen wurde.
Die Auswirkungen der Krise: Besonders in den USA, wird es zu einer verstärkten und beschleunigten Selektion von Startups.
In Deutschland/Europa ist die Lage nach Ansicht von Saul Klein (Index Ventures) dabei noch um einiges besser als in den USA, denn in Europa gibt es noch viel Kapital – jedenfalls für Startups, die die Realität verstehen und die wissen, wie man in harten Zeiten überlebt:
Be like a cockroache, don't panic, make money last, make products people want, cut your costs, raise enough capital and stay strong.
Hier die Slides aus der Präsentation von Saul Klein:
Ähnliche Beiträge: