zembly ist ein neuer Dienst, mit dem eigene Facebook-Applikationen, Widgets uvm. erstellt werden können:
zembly lets you collaboratively create and host social applications of all shapes and sizes, including Facebook apps, meebo apps, OpenSocial apps, iPhone apps, Google Gadgets, embeddable widgets, and other social applications, using just your browser and your creativity.
Aktuell befindet sich zembly noch in der private beta, eine Einladung zu bekommen sollte aber kein Problem darstellen.
Im Gegensatz zum Sproutbuilder, bei dem das Erstellen von Widgets in einen WYSIWYG-Editor geschieht, richtet sich zembly an Entwickler oder Leute, die zumindest etwas mit (X)HTML, CSS und JavaScript anfangen können. Diesen soll es durch den kollaborativen Ansatz möglich sein, kreative Ideen auf einfache Art und Weise umzusetzen.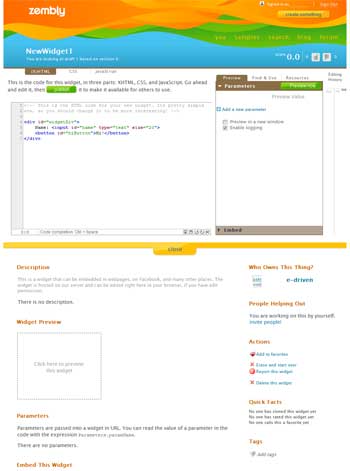 Ähnliche Beiträge: