Nachdem das Jahr nun schon etwas älter ist, hier nun (endlich) auch das erste Lebenszeichen von mir in 2008. Die Pause ist doch etwas länger geworden als geplant. Vor Weihnachten war einfach zu viel los – und danach eigentlich auch

Also gleich ans eingemachte: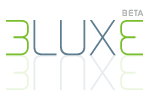 Eine Produktsuche der etwas anderen Art ist 3LUXE. Statt einer großen Auswahl an Produkten, präsentiert das US-Startup von Doug Worple aus jeder Kategorie die drei besten Produkte. Die dargestellte Auswahl ist das Ergebnis einer Kombination von Informationen aus diversen Quellen (eigenes Produkttesting, Online Rezensionen, Zeitschriften etc.), die von 3Luxe bewertet werden.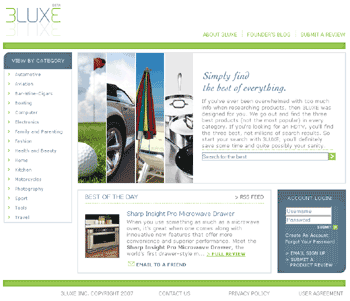 Erinnert ein wenig an Crowdstorm, aber die Unterschiede sind:
Bei 3Luxe kommt kein automatisierter Algorithmus zum Einsatz, sondern die Artikel werden in Handarbeit eingestellt. Zudem wird die Anzahl der dargestellten/empfohlenen Produkte auf drei limitiert. Der User hat nicht mehr die Qual die Wahl und muss aus einer Masse an Produkten das aussuchen, was "am besten" ist, sondern er erhält eine Vorselektion. Genau das Richtige für alle, die eine schnelle Entscheidung treffen wollen und nicht die Zeit/Lust haben Informationen zu sammeln und auszuwerten.
Doug Worple beschreibt dies als "The Google Paradox—or What Drives Search Engine Fatigueo":
Search Engine Fatigue—a condition/malady/sickness/state of mind that comes from not finding what you're looking for on the web.
…

Search engine fatigue is the genesis of our site 3Luxe. We didn't know the term, but we certainly suffered from it.
Kommt einem bekannt vor – eine zu große Anzahl an Alternativen macht nicht immer glücklich…
Der Part der Userinteraktion beschränkt sich bei 3Luxe auf ein zu- oder ablehnen der Produktauswahl. Die Kategorien gehen von Automobilen über Fluggeräte, Gesundheit und Wellness bis hin zu Reisen. Gerade bei höherwertigen Produkten ist 3Luxe meiner Meinung nach allerdings keine Hilfe. Das Risiko, nicht das richtige Auto oder den falschen Küchenboden zu kaufen, ist einfach zu hoch und hier würde ich mich dann doch auf meine eigene Recherche verlassen.
Insgesamt aber ein interessanter Ansatz mit Potenzial. Würde auf Basis von demografischen Faktoren, Lebenseinstellungen etc. eine Produktauswahl präsentiert, wäre dies mit Sicherheit hilfreicher. Und dann geht es fast gezwungenermaßen in Richtung mehr Userinteraktion und automatisierten Bewertungsalgorithmen…
Mehr zum Thema:
Vortrag von Barry Schwarz: The Paradox of Choice (27.04.2006)
Ähnliche Beiträge: