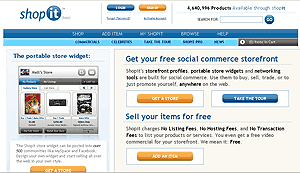 Einen interessanten Ansatz im Social Commerce geht Shopit aus den USA. Shopit ist nach eigenen Angaben das erste und größte peer-to-peer Social Commerce Network.
Shopit's storefront profiles, portable store widgets and networking tools are built for social commerce. Use them to buy, sell, trade, or to just promote yourself, anywhere on the web.
Das Portable Store Widget kann auf Plattformen wie MySpace, FaceBook, Friendster, Blogger, Ning etc. integriert werden – maximale Reichweite garantiert möglich.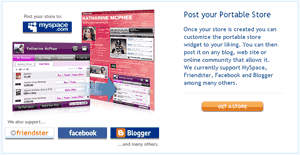 Das Netzwerk
Shopit wird dem Shopbetreiber kostenlos zur Verfügung gestellt und finanziert sich über Werbung, die u.a. direkt über der Navigationsleiste eingeblendet wird. Diese Navigationsleiste ist in jedem Shop enthalten, ist nicht konfigurierbar und navigiert den Besucher durch das gesamte Universum der Shopit-Stores. Auf diese Art und Weise sind alle Shops miteinander verbunden und es entsteht ein großes Netzwerk von verschiedenen Online-Shops. Zusätzlich können sich auch die Shop-Betreiber untereinander vernetzen. Über alle Shops gibt es einen einheitlichen Warenkorb auf der Shopit-Plattform (Versandkosten fallen mehrfach an).
Soweit so gut – wäre da nicht das Design. Viele der Shops sehen aus wie eine schlechte MySpace Seite und erwecken, zumindest bei mir, kein großes Vertrauen. Ein Grund dafür ist eben auch die Navigationsleiste (inkl. Werbung), die fast immer zu einem Stilbruch führt. Zudem führt die Navigation den User ebenso schnell aus dem Shop hinaus, wie sie ihn hineingeführt hat.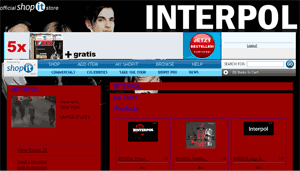 Interessant ist, dass einige Bands und "Prominente" einen Shopit Store eingerichtet haben – zu finden in der Rubrik Celebrities.

Ähnliche Beiträge: