Die dezentrale Verbreitung von Inhalten hat nun auch den eCommerce erreicht – auf dem Barcamp Hamburg widmete sich Stefan Betzold dem Thema und erwähnte u.a. Tailgate Technologies aus London.Tailgate Technologies hat ein System entwickelt, mit dem in Videos, Widgets, Applikationen und herkömmlichen Bannern Transaktionsprozesse per Overlay integriert werden können. D.h. für Konsumenten wird es möglich sein Produkte direkt in einer der diversen Werbeformen zu kaufen, ohne die Webseite des Werbetreibenden verlassen zu müssen; Warenkorb und Bezahlfunktion sind integriert. Hier ein Beispiel für eine Integration per Layer in ein Video: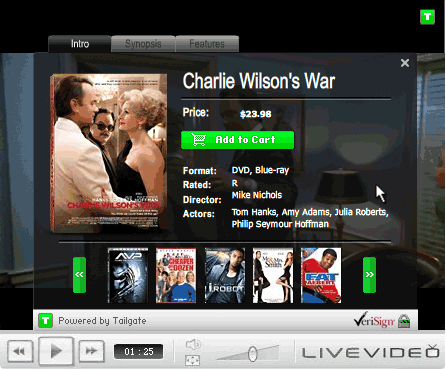 Damit deckt Tailgate meines Wissens bislang die größte Bandbreite an Verbreitungs- und Vertriebsmöglichkeiten ab, denn Adgregate Markets, RadicalBuy und andere Dienste haben sich bisher noch nicht an Videos herangetraut.Hier eine Übersicht über die Evolutionsstufen des eCommerce aus Sicht von Tailgate: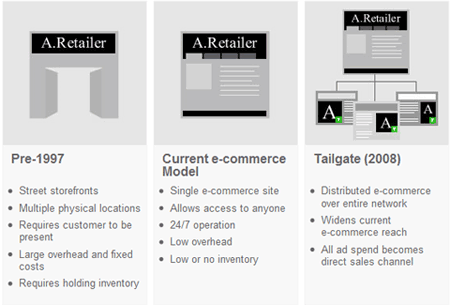 Für das Konzept hat Tailgate dieses Jahr den "2008 European Online Advertising Technology Innovation of the Year Award" gewonnen.
"Tailgate Technologies has the ability to change the way online advertising will evolve in the coming years," notes Frost & Sullivan Research Analyst Zachariah Thomas. "Transactional advertising will boost online sales by capitalising on the technology's ability to facilitate impulse purchases, without re-directing the customer to another e-commerce site."
Hört sich positiv an, zeigt aber auch die Herausforderungen:
Lernprozesse müssen beim Konsumenten einsetzten, denn gerade Banner zeichnen aktuell eher sinkende Klickraten aus. Bis User über Banner oder Layer einkaufen, wird wohl einige Zeit vergehen
Die Werbeformen/Verkaufsflächen eignen sich eher für Produkte mit niedrigem Preis und geringem Erklärungsbedarf (digitaler Content passt sehr gut)
Die realisierten Warenkörbe dürften eher niedrig sein, da weniger Produkte im Warenkorb sind (ideal für Live-Shopping Anbieter)
Der Sicherheitsaspekt als größte Hürde: Gefahr von Phishing; geringe Bereitschaft/Vertrauen der User Kontoinformationen etc. in einem Layer, Widget etc zu hinterlassen
Trotz dieser Herausforderungen kann diese Art des Vertriebs in der Zukunft deutlich an Bedeutung gewinnen!

Ähnliche Beiträge: